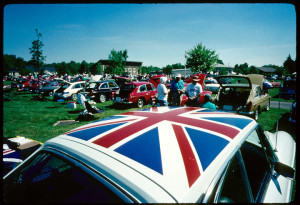 Upcoming British Car Events
SAVE THE DATE:
42nd Annual ORIGINAL BRITISH CAR DAY
WHEN
Sunday, June 2, 2019, 8am – 4pm
WHERE
Serra Valley Farms, 5601 Ridge Rd., Mount Airy, Md.
EVENT TYPE
British Car Show
 
 
HOSTED BY
Chesapeake Chapter of New England MG 'T' Register
SUMMARY
More than 500 British cars will gather for the 42nd Annual Original British Car Day, this year being held at a NEW VENUE, Serra Valley Farms.

 

This year's featured marque is the classic Mini, in honor of its 60th anniversary.

Pets on leash and picnic lunches welcome. Food and drinks available.

SCHEDULE
Field opens: 8 am
Popular choice voting closes: 1 pm
Awards: 3 pm. MUST BE PRESENT TO RECEIVE AWARD.
RAIN OR SHINE
Yes
CLUB/EVENT WEBSITE
www.chesapeakechaptermgtclub.com…
VENUE INFORMATION
www.serravalleyfarms.com
EMAIL
thomasdrenda@gmail.com
PHONE
410-804-7017

 
MG 2019 – The 28th Annual North American MGB Register Convention – June 23 to 26 – Traverse City, Michigan.  The website for registration will be live later this Fall.   Click here to register and get more information: MG 2019
40th Annual "MGs On the Rocks" British Car Show,  Saturday, September 28th, 2019.  Rocks State Park, 4-H Camp. Double Click below for a event flier/registration form:
From Little British Car Company – https://www.lbcarco.com/
Here is a listing of events for 2019, please be sure to check with the organisers before heading off to these.
May 4, 2019 Williamsburg, VA. – 20th Annual 2019 Williamsburg British & European Car Show
Featured marque is Morgan to celebrate their 110th year ofproduction. registration form on website-$20 pre-registration now thru April 26th, 2019 – $25 day of show or email PayPal $21 to rggavpbl@yahoo.com Contact: Roy Gavilan. Phone: 757-637-5902. Email: wbccregister@outlook.com. Website: http://www.wmbgbrit.com/.
May 4, 2019 Wilmington , NC. – British Motor Club of the Cape Fear Car Show
Details and registration information is available at BMCCF.org. Join the British Motor Club of the Cape Fear as we celebrate our 21st-anniversary car show at the USS North Carolina Battleship Park. Over 100 classic British motor cars will be on display with live music, tours of the battleship available, along with all food, fun, and restaurants in nearby historic downtown Wilmington and at our local beaches can offer. Registration Fees: • $25.00 per vehicle if pre-registered by 03/31/2019 • $30.00 after 03/31/2019 Admission is free to the public. Raffles Food Truck Free Guest Parking Discount Battleship Tours Available Awards for best club attendance & distance traveled Dash Plaques for First 100 Cars Registered Live Music by The Rusty Bumpers Band Host Hotel: Holiday Inn Express, 1020 Grandiflora Drive Leland, NC 28451, 910.383.3300 (approx. 10 min. / 6 miles from show grounds) Call 910.383.3300 or use this link for the car show rate: Click Here to Book Online Event Agenda: • Friday, May 3rd, Holiday Inn Express, Leland NC o 7 PM – 10 PM: Pre-Show Gathering • Saturday, May 4th, Battleship Park Wilmington, NC o 9 AM – 11 AM: Registration o 9 AM – 2 PM: Cars on Display o Noon: Voting Ends o 2 PM: Awards Contact: Pam McMahon. Phone: 910-515-9075. Email: strike300pam@aol.com. Website: bmccf.org.
May 10-12, 2019 Townsend, TN. – Springtime in the Smokies
Springtime in the Smokies, the annual gathering of European automobiles and motorcycles in Townsend, TN, will be held May 10-11 on the grounds of the Talley Ho Inn. Join us in the shadow of the Great Smoky Mountains, as people from all over the southeast and beyond come together to show off their colorful paint, polished chrome and works in progress. Early registration is only $25 and includes the Friday night cookout (by April 15; $30 day of show). Relax in the beauty of a Smoky Mountain spring. Come a day early or stay a day late and drive the Cades Cove loop, hike Laurel Falls, visit Sugarlands Visitor Center or wade in the Little River. OR, drive the newly completed Foothills Parkway, now offering 33 miles with some fantastic views The car show is hosted by Blount British Cars and English Auto Society. Visit our websites for show details and registration information: https://blountbritishcars.org/annual-car-gathering/ or englishautosociety.org. Proceeds, after expenses, are distributed to several local charities. Contact: Jim Watson. Phone: 865-599-4305. Email: spridget@charter.net. Website: www.blountbritishcars.org/annual-car-gathering.
May 18, 2019 Raleigh, NC. – 23rd Annual Triangle British Classic Car Show
North Carolina MG Car Club's Triangle British Classic Car Show. It is being held at North Hills, Six Forks Road, Raleigh, NC, where there is something for everyone. This is a wonderful opportunity to see more than 125 cars representing over 60 years of British motoring history. Along with the car show there will be regalia for sale, raffle prizes, a 50/50 drawing, and a Hot Wheels race for children. Spectators are free. The first car you register is $30 and each additional car is $15. Early registrants are entered in a drawing for a $100 gift card. Early registration ends April 12, 2019. Registration forms can be found on the website. The show runs from 8:30 am to 3:00 pm. Contact: Dennis Taylor. Phone: 919-610-7166. Email: dltpilot@hotmail.com. Website: https://ncmgcarclub.wildapricot.org/event-3230320.
May 19, 2019 Columbus, OH. – Central Ohio British Car Day
Annual event for central Ohio, held at Quaker Steak Polaris just off I-71, over 300 cars expected, awards, participant judging, spectators free, car registration $15 in advance, $20 day of show. Featured marques: Classic Mini, Triumph TR6, Morgan. Opens at 9 am, fun for the family. British car drive day before, hospitality room saturday night at Cambria Suites. Contact: Bill Blake. Phone: 614-403-1074. Email: BRITSatPOLARIS@AOL.COM. Website: http://tinyurl.com/bcd-columbus-2019.
June 1, 2019 Clinton, NJ. – 24th Red Mill British Car Day
Join us for the 24th Red Mill British Car day at the Red Mill Museum Village at 56 Main St., Clinton, NJ on Saturday June 1, 2019. Organized by the North Jersey Region of the Austin Healey Sports & Touring Club. Enjoy the scenic grounds of the Museum and dine and shop in historic downtown Clinton. $20/car before May 24, $25 after. Spectator admission benefits the Museum. Go to "Events" at
www.ahstc.org>/>www.ahstc.org for registration form. Contact:
healey4459@gmail.com>/>healey4459@gmail.com Contact: Steve Feld. Phone: 973-525-9054. Email: healey4459@gmail.com. Website: www.ahstc.org.
June 2, 2019 Perrysburg, OH. – 21st Annual British Return to Fort Meigs Car and Bike Show
Lake Erie British Car Club, British Return to Fort Meigs Car Show 10:00 am – 3:00 pm The show runs from 10am to 3pm. Registration is from 9am to 12 noon. After viewing and voting on your favorite British vehicles, you will have opportunities to tour the restored fort from the War of 1812 and its museum, eat lunch at one of the food vendors or shop at one of the vendors. This year we be bringing back the British quiz and adding a new event– Hot Wheel Drag Races! There will also be a scavenger hunt, a 50/50 raffle and a silent auction. Voting is by popular vote. Dash plaques to the first 125 registered, goody bags, and door prizes. Pre-registration is $12.00 and will include an instant lottery ticket. Day of show is $15.00 with no lottery ticket. Event shirts are available. Mark your calendars now! Contact: Tony Shoviak. Phone: 419-878-2041. Email: tenntony@roadrunner.com. Website: www.lebcc.org.
June 2, 2019 Waterford, CT. – British by the Sea
The CT MG Club's 32ND ANNUAL "BRITISH BY THE SEA" 10 AM till 4 PM at HARKNESS MEMORIAL STATE PARK This is a fun GATHERING of people who own and appreciate British Vehicles of all Marques. We want to encourage ALL British car, truck, and motorcycle owners and enthusiasts to attend and have an enjoyable time. Whether your vehicle is in pristine condition, or a daily driver, sparkling paint and chrome or with 'Barn Fresh' patina, it deserves to be part of the event and on the display field. The Featured Marque is the CLASSIC MINI produced from 1959-2000. Come have a picnic, a glass of wine, and also take in all that visit the beach, the Mansion 'Eolia', and the Gardens. Much of the proceeds is donated to the Park. Food vendors from hot dogs and hamburgers, lobster rolls, deli sandwiches and wood fired brick oven pizzas, to Ice Cream for desert. Contact: Steve Wincze. Phone: 860-693-4249. Email: mgtd52@comcast.net. Website: http://www.ctmgclub.com/.
May 31-June 2, 2019 Bloomington, IL. – Champagne British Car Festival
CBCF is a 3 day event, culminating in our car show held on the grounds of the David Davis Mansion on June 2. Lotus is the featured marque this year among 150 or so cars of all years and makes. Burt "B.S." Levy, author of The Last Open Road and other novels will be our honorary chairman and speaker at the Saturday night banquet. Don't miss it – CBCF 2019! Contact: Jim Broach. Phone: 309-831-6601. Email: cbcfreg@gmail.com. Website: cbcf-bloomington.com.
June 2-5, 2019 Wytheville , VA. – British V8 Conversions
2019 British V8 Conversion meet. Location: Wytheville, Va. Dates: June 2 thru June 5.2019 Hotel is La Quinta Inn. Rooms $75 + Taxes. 276-228-7400 Be sure to ID yourself as British V8 group for RATE Located near intersection of I-77 and I-81. All British cars welcome, plus Domestic and Asian welcome. Come see and talk to people who have modified their cars for more modern Technology and more power. EFI, Power Steering, etc. Mountain Roads to drive till you OD! Come see us in June. Check our website Events Banner for Registration details. Contact: Kelly H. Stevensonl. Phone: –. Email: britishv82019@gmail.com. Website: http://www.britishv8.org/British-V8-Meetings.htm.
June 2-6, 2019 Chelan, WA. – Austin Healey Club Rendezvous
Come join us for our annual 2019 Rendezvous at beautiful Campbell's Resort where all rooms face Lake Chelan. You will enjoy a "meet and greet" BBQ on Sunday and a car show on Monday. There will be Tech Sessions, classes and a roll through for diagnosis of car problems, hosted by Steve Day of British Car Ranch of Wenatchee, WA. Enjoy drives around the lake with the many wineries in the area. Miller's Car Museum tour is scheduled with a free catered lunch of Bangers and Mash sponsored by Austin Healey Club USA. So come join us to enjoy the camaraderie of west coast Austin Healey owners. Contact: Lyman E Bradley. Phone: 360-966-7339. Email: lebjmb1@aol.com. Website: http://cascadeahc.homestead.com/home.html.
June 7-9, 2019 Glenwood Springs, CO. – 67th Annual Rallye Glenwood Springs
Friday's event is a true Time-Speed-Distance (TSD) rallye from a suburb of Denver through the scenic Rocky Mountains and ending in Glenwood Springs. Saturday will be the tour beginning and ending in Glenwood Srings and Sunday morning is the car show in a park alongside the Colorado river. This year we are celebrating 90 years of MG Sports Cars, but you don't have to bring an MG, or even a British car (although we encourage it), you can attend in any vehicle you choose. Contact: Joe Gunderson. Phone: 303-791-4902. Email: MGCCGlenwoodRallye@gmail.com. Website: MGCC.Org.
June 9, 2019 Hellertown, PA. – British Motorcar Gathering
26th annual all-British car show held at a wooded park just south of Allentown in eastern Pennsylvania attracts more than 200 cars from all over the mid-Atlantic. Owners who register their cars cast votes to choose the top three examples of each class and model of car, with more than 50 awards to be made. All makes of British cars and motorcycles, old and new, are welcome. Registration is $15 in advance by May 31, $20 at the gate. The field opens at 9 a.m., with judging until 12:30 p.m. Food and drinks available in large picnic pavilion or bring your own, with music provided all day. Sponsored by the Keystone Region MG Club. See website for registration, directions, more information. Contact: Jeff Rohrbach. Phone: 610-802-0186. Email: show@keystonemg.com. Website: http://www.keystonemg.com/hellertown.html.
June 15, 2019 Salt Lake City, UT. – British Field Day
DRIVE, RIDE or ROLL with your family over to Liberty Park in Salt Lake City for Utah's classic British Field Day. In its 27th year BFD is a festival celebrating British Cars, Trucks, Motorcycles and Tractors. All British vehicles from works in progress to super cars are welcome. STOP at the Kids Garage for a coloring contest & British car scavenger hunt, then FILL UP with local food truck fare. Kids can even take a ride in a classic British car. British Field Day raises money to support the Salt Lake Arts Academy and the Liberty Wells Community Council. Liberty Park 650 E 1300 S Salt Lake City, Utah 84105 8:00AM to 3:00PM. Also please visit: www.bmcutah.org Contact: Zachary Bartholomew. Phone: 801-554-9335. Email: bartholomew.zachary@gmail.com. Website: http://www.britishfieldday.com/.
June 23, 2019 Forest Hill, MD. – Brits By The Bay
Modern and classic British car and motorcycle show. 10:00AM – 3:00PM (gates open at 9:00). Register by 5/19 and receive a show tee shirt and dash plaque. Participant judging. Food, beverages and wine tasting available. Sponsored by TRAC (TRiumphs Around the Chesapeake) and held at Harford Vineyards and Winery, 1311 W. Jarrettsville Rd. Forest Hill, MD 21050. Go to www.tracltd.org to register. Contact: Steven Horant. Phone: 443-827-6116. Email: britsbythe bay@gmail.com. Website: WWW.TRACLTD.ORG.
June 23-26, 2019 Traverse City, MI. – MG 2019
Annual convention of the North American MGB Register with classes covering the MGB, MGB/GT, MGC, MGC/GT, 1962-1979 MG Midget/AH-Sprite, MGB GT Factory V8, MG 1100/1300, and all Post-Abingdon (post-1980) MGs. Held in the picturesque town of Traverse City, Michigan, the convention will include many activities including the famous John Twist Rolling Tech Session. See mg2019.org for more info. Contact: Tony Burgess. Phone: 614-580-3727. Email: MG2019INFO@gmail.com. Website: mg2019.org.
June 30, 2019 Notre Dame, IN. – Michiana Brits 32nd Annual British Car Show
FUN EVENT FOR THE ENTIRE FAMILY This highly popular all-marque show is on the beautiful campus of Saint Mary's College on the north side of South Bend, IN, across from Notre Dame. The featured marque is the MGB Chrome Bumper. Judging will be by popular vote, with awards given for each class and Best in Show (upgraded awards!). The entry fee is $23 per vehicle, and for club members who have their Michiana Brits membership affiliated with their NAMGBR membership, the fee is $10 per vehicle. Vehicles may arrive after 8:30 AM, judging from 11 AM – 2 PM, awards shortly thereafter. Goody bags and collector show pins for the first 100 vehicles. Silent auction, and craft table for kids. Food sales (credit cards accepted) rain or shine, by Saint Mary's College, air-conditioned indoors area. Open to the general public 10 AM – 3 PM, free admission & parking, indoor restrooms. Bring a can of food for our 'Help Michiana Brits Drive Out Hunger' donation to the Food Bank of Northern Indiana. Entrants may register at the show or pre-register at the Michiana Brits website. Contact: larry j palguta. Phone: 574-288-3923. Email: palguta@sbcglobal.net. Website: www.michianabrits.com.
July 13-14, 2019 Windsor, NOVA SCOTIA. – British Motoring Festival
This is the tenth year of the British Motoring Festival and promised to be a great one. Held in a beautiful location, British cars from far and wide will be showcased. Music, food, wonderful people and beautiful cars! Please note a reception is held on Friday the 12th for participants and a breakfast on the 14th at the Spitfire Arms Pub. Come celebrate the 60th anniversary of the Mini! Contact: Rod MacArthur. Phone: 902-719-5257. Email: rodsterca@yahoo.ca. Website: http:/www.britishmotoringfestival.com.
August 12-15, 2019 Prescott, AZ. – GoF West 2019
47th Annual GoF West West to be held in the beautiful, quaint town of Prescott, Arizona. Event will include a Car Display, Funkhanna, Rallye, Tech Sessions, Ladies' Tea, Auction (silent and live), Art, Models, Photos and Sewn Goods Displays. Contact: Mike Campbell/Larry Long. Phone: 619-993-0952. Email: MLC226M@YAHOO.COM. Website: GoF West.Org.
September 5, 2019 Watkins Glen, NY. – FLX Triumph Show and Journey to the Top
A Triumph only car show including a special competition between participating Triumph Clubs. This event also includes a scenic Rallye/Tour called the Journey to the Top which culminates at the Top of the Lake Restaurant. Contact: Randy Olson. Phone: 607- 351-3550. Email: holtian143@ hotmail.com. Website: http://grandprixfestival.com/FLXShow.html .
September 6-8, 2019 Portland, OR. – 43rd Portland All British Field Meet
Saluting Sixty Years of MINI – Join OVER 800 other British vehicle owners and share your interests with other enthusiasts. Motorcycles, replica cars made in England and specialty cars with British chassis and running gear and British bodied cars with American engines, including conversions are welcome. Friday Welcome Party, Saturday car show, Guided walking tours, BBQ, Giant Slalom competition, People's Choice balloting, a live music performance, Arts, Crafts & Photo Contest, Scavenger Hunt for the Kiddos, Best in Show designation and a Land Rover Adventure Ride. Sunday's activities include a Rallye, swap meet and more fun on the PIR track in the Giant Slalom. NEW THIS YEAR- 60th Anniversary Mini Race. Racing will be sanctioned by the Society of Vintage Racing Enthusiasts. Classic race-prepared Minis and Mini-powered variants rare invited to participate for trophies in one of our four official classes. Mini Racers will enjoy a single event exemption from SOVREN car eligibility requirements for this event. Drivers must hold a valid VMC, SCCA, or FIA competition license and medical to participate. Email:eric@hybridmoon.com. Website: http://abfm-pdx.com.
September 8, 2019 Palatine, IL. – Chicagoland British Car Festival
You are invited to one of the largest and most entertaining British Car events in the U.S. the Chicagoland British Car Festival. Sunday September 8, 2019, from 9:00am – 3:00pm at Harper College, 1200 West Algonquin Road in Palatine, Illinois. It is expected that more than 500 classic British cars will be on display and over 2,000 people will attend the 2019 edition of the Chicagoland British Car Festival. The festival features authentic British food, entertainment, technical learning sessions, car merchandise giveaways, classic car parts vendors, the latest import car models from Great Britain, and of course, Classic British Cars! Following last year's fun and spectator enthusiasm, valve cover racing, a quirky gravity- propelled competition returns to the festival in 2018! Admission for the general public is free, with donations encouraged for Shelter, Inc, a non-profit organization dedicated to providing community-based emergency and longer-term housing for abused and neglected children. www.shelter- inc.org. Last year Shelter, Inc raised more than $1,500 at the festival. For those displaying cars, registration fee on-site at the Festival, is $25.00. On-site registration is on a space available basis. For more information on the Chicagoland British Care Festival, and for on-line registration, see the website www.britishcarunion.com. Contact: Ed Klich. Phone: 630-445-3124. Email: ecklich29@gmail.com. Website: www.britishcarunion.com.
September 13-15, 2019 Stowe, VT. – British Invasion
The largest All-British Motorcar Show and British Lifestyle Event in the USA, annually attracting over 600 British Motorcars to the scenic town of Stowe, Vermont as the inception of Fall Foliage Season (September 13th- 15th, 2019). Events start with a Friday evening Street Party with a live band. Saturday is the Big Day with over 65 separate classes in the British Classic Motorcar Show (People's Choice); the Concours d'Elegance Competition (Judged); a Car Corral (British Motorcars For Sale); British Marketplace of Vendors; British Invasion Music; Food & Beverage service; the Queen's Court (Ladies Hat Competition); and the British Attire Competition (open to the public). Sunday adds the 'Notch Run' (70 minutes driving Tour; a Competition of Colors; and a Tailgate Picnic Competition. Contact: Michael F. Gaetano. Phone: 508-395-6663. Email: mgaetano@britishinvasion.com. Website: www//britishinvasion.com.
September 15, 2019 Oakville, ONTARIO. – British Car Day
Hosted annually by the Toronto Triumph Club, on the third Sunday of September. Draws over 1,000 British cars and over 9,000 spectators. Open to vintage, classic and current British manufactured vehicles, including motorcycles. The event is the largest, one-day, all-British car event in North America, with visitors from Ontario, the northeast United States, the Maritime provinces, Quebec, and Manitoba. Contact: Dave Sims. Phone: 905-331-1496. Email: dave.sims@cogeco.ca. Website: www.BritishCarDay.com.
September 22-26, 2019 Ocean City, PA. – Austin-Healey Sports & Touring Club Encounter 2019
Annual gathering for Austin-Healey Enthusiasts and members of The Austin- Healey Sports & Touring Club. Rally, Scenic Drives, Popular Car Show [On the Boardwalk], Concours, Gymkhana [autocross], funkhana [gimmick autocross]. Tech Sessions. Contact: Trish woglom. Phone: 111-222-3333. Email: pwoglom@comcast.net. Website: www.ahstc.org.
September 28, 2019 Street, MD. – 40th Annual "MGs On the Rocks" British Car Show
The 40th Annual edition of one of the longest running British Car Shows in the USA promises to be a great event, we are expecting over 200 cars with MGs of all models and 8 classes of other British Marques. Popular vote balloting by the car owners is from 10:00 until 1:00 and awards are given out about 3:00 p.m. Directions: From I-95 North of Baltimore take exit 77B, follow Rte. 24 West 13 miles, briefly merging with and then leaving US 1, then later crossing MD 23. After 13 miles, turn right across the one lane bridge at Cherry Hill. Pull into the 4H Camp and MGs on the Rocks on your left. Look for MG Octagon signs enroute. You can set your Navigation system to: 2 Cherry Hill Road, Street, MD 21154 Contact: Richard Liddick. Phone: 410-817-6862. Email: RGL2MGBGT@aol.com. Website: www.mgsofbaltimore.org.
LBCarCo England/Wales/Scotland/Ireland/Europe Adventures
Little British Car Co, Ltd. Vintage Motors, Ltd.
29311 Aranel, Farmington Hills, MI 48334-2815, USA
Contact: Jeff Zorn Tel: 248 489 0022 or 800 637 9640 Fax: 248 419 2461