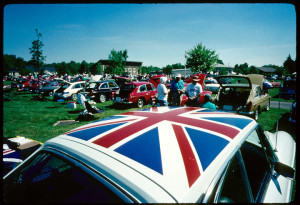 Upcoming British Car Events
SAVE THE DATE:
MG 2019 – The 28th Annual North American MGB Register Convention – June 23 to 26 – Traverse City, Michigan.  The website for registration will be live later this Fall.   Click here to register and get more information: MG 2019
40th Annual "MGs On the Rocks" British Car Show,  Saturday, September 28th, 2019.  Rocks State Park, 4-H Camp. Double Click below for a event flyer/registration form:
From Little British Car Company – https://www.lbcarco.com/
Here is a listing of events for 2019, please be sure to check with the organisers before heading off to these.
June 2, 2019
Perrysburg, OH. – 21st Annual British Return to Fort Meigs Car and Bike Show
Lake Erie British Car Club, British Return to Fort Meigs Car Show 10:00 am – 3:00 pm The show runs from 10am to 3pm. Registration is from 9am to 12 noon. After viewing and voting on your favorite British vehicles, you will have opportunities to tour the restored fort from the War of 1812 and its museum, eat lunch at one of the food vendors or shop at one of the vendors. This year we be bringing back the British quiz and adding a new event– Hot Wheel Drag Races! There will also be a scavenger hunt, a 50/50 raffle and a silent auction. Voting is by popular vote. Dash plaques to the first 125 registered, goody bags, and door prizes. Pre-registration is $12.00 and will include an instant lottery ticket. Day of show is $15.00 with no lottery ticket. Event shirts are available. Mark your calendars now! Contact: Tony Shoviak. Phone: 419-878-2041. Email: tenntony@roadrunner.com. Website: www.lebcc.org.
June 23-26, 2019
Traverse City, MI. – MG 2019
Annual convention of the North American MGB Register with classes covering the MGB, MGB/GT, MGC, MGC/GT, 1962-1979 MG Midget/AH-Sprite, MGB GT Factory V8, MG 1100/1300, and all Post-Abingdon (post-1980) MGs. Held in the picturesque town of Traverse City, Michigan, the convention will include many activities including the famous John Twist Rolling Tech Session. See mg2019.org for more info. Contact: Tony Burgess. Phone: 614-580-3727. Email: MG2019INFO@gmail.com. Website: mg2019.org.
August 12-15, 2019
Prescott, AZ. – GoF West 2019
47th Annual GoF West West to be held in the beautiful, quaint town of Prescott, Arizona. Event will include a Car Display, Funkhanna, Rallye, Tech Sessions, Ladies' Tea, Auction (silent and live), Art, Models, Photos and Sewn Goods Displays. Contact: Mike Campbell/Larry Long. Phone: 619-993-0952. Email: MLC226M@YAHOO.COM. Website: GoF West.Org.
Little British Car Co, Ltd. Vintage Motors, Ltd.
29311 Aranel, Farmington Hills, MI 48334-2815, USA
Contact: Jeff Zorn Tel: 248 489 0022 or 800 637 9640 Fax: 248 419 2461
E-Mail is always the preferred method of communication.
By using E-Mail it helps us to keep our costs down enabling us to pass the savings on to our customers.
Email: <LBCarCo@LBCarCo.com>