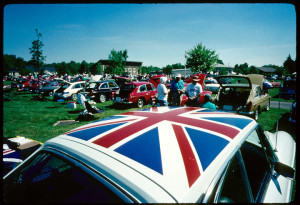 Upcoming British Car Events
SAVE THE DATE:
MG 2018 – Gettysburg Pennsylvania,  June 17th – 22nd 2018 Hosted by the MGs of Baltimore, Ltd. with a little help from our friends.  mg2018.namgbr.org/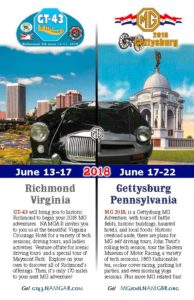 GT-43 NAMGAR'S Annual Convention Richmond, VA                        June 13th – 17th – http://www.gt43.org/
39th Annual "MGs On the Rocks" British Car Show,  Saturday, September 29th, 2018.  Rocks State Park, 4-H Camp. Double Click below for a event flyer/registration form:
From Little British Car Company
Here is a listing of events for 2018, please be sure to check with the organisers before heading off to these.
February 10, 2018

Vero Beach, FL. – 9th Annual Motor Car Exhibiton – The British Are Coming!
from 10AM to 3PM, Forty classic and current British cars will be on display throughout the lush tropical landscape of McKee, ranging from a 1931 Bentley 8 Liter to the latest 710 horsepower 2018 McLaren. Thisyear's car show is being held in conjunction with McKee's It's A Jungle Out There! Exhibition featuring 24 hand-crafted metal African sculptures made especially for McKee by the Ark Collective of Kenya. See two exhibitions for the price of one! General admission rates apply. $12 Adults, $11 Seniors, $8 Children ages 3-12. McKee members and children under 3 free. McKee Botanical Garden, 350 US Highway 1, Vero Beach, FL 32962 Contact: Connie Cotherman. Phone: 772-794-0601. Email: info@mckeegarden.org. Website: http://www.mckeegarden.org.

March 24, 2018

Columbia, SC, SC. – Carolina British Classics – XII
At The Historic Columbia Speedway 2001 Charleston Highway, Cayce, SC 29170 More details to come soon! Contact: Randy Yaussy. Phone: 419-834-4657. Email: bccmc1@gmail.com. Website: http://www.bccmc.com/.

March 22-25, 2018

Altamonte Springs, FL. – 52nd Annual SOUTHERN GATHERING OF THE FAITHFUL for MG enthusiasts
GOF-South celebrates 'MGs and friends forever', in four days of non-stop MG action for the entire family March 22-25, 2018 at the Hilton Hotel in Altamonte Springs, FL. It is one of the oldest GOFs in the nation. Shop visits, seminars and hands-on tech sessions by world famous MG experts, demonstrations, summit meeting for club leaders, MG shows, shopping and museum excursion to Winter Park, and of course, tall tales and tire-kicking. >>VIDEO https://www.youtube.com/watch?v=vTHxyFV5zxg Contact: Lonnie Cook. Phone: 407-670-9679. Email: gofsouth2018@aol.com. Website: http://www.gofsouth.com/.

April 7, 2018

Winter Park , FL. – All British Car Show
34th annual All British Car Show at Mead Gardens in beautiful Winter Park Fl. Contact: Jeff Corenblum . Phone: 407-415-4773. Email: Moose1050@aol.com. Website: www.allbritishcarclub.com.

April 14, 2018

Williamsburg, VA. – 19th Annual 2018 Williamsburg British & European Car Show
The Shops of High Street is our NEW VENUE. Featured marque is Daimler to celebrate the 40th year of the Daimler & Lanchester Owners Club of North America. Hours 10 AM to 3 PM Saturday. Awards at 2 PM. Admission is $25 at show, $20 pre-registration due April 7th, spectators free. Come out and see over 150 British & European vehicles on display, automotive vendors, door prizes, 50-50 charity raffle. Food available at onsite restuarants for quick & easy pickup.Reservation cutoff date is 3/16/18. Contact: Roy Gavilan. Phone: 757-637-5902. Email: wbccregister@outlook.com. Website: http://www.wmbgbrit.com/.

April 29-May 6, 2018

St. Michael in Eppan, ALBERTA. – MGs in the Dolomites
This event will be hold in the mountains of the Dolomites / South Tyrol / Europe from 29th April 2018 to 6th May 2018. All 'MG' cars which were built between 1924 and 2005 and are regular licensed for the road-traffic are accepted. (also accepted the MG TF Mk II which were built between August 2008 and March 2011) Contact: Christian Bianco. Phone: 338-314-6779. Email: president@classicteam850.com. Website: htttp://www.mg-dolomites.info.

May 24-27, 2018

Eau Claire, WI. – Rally in the Valley 2018
Rally in the Valley is 'On the Road Again' in 2018! This is a three-day celebration of British and European Classic Sports Cars. Come to Wisconsin where we have spectacular country roads with bountiful rolling hills, bluffs, creeks, rivers and lakes. The host hotel will be The Best Western Plus Conference Center in Eau Claire, Wisconsin. Events include the Tune Up Your Intake Party, Life is a Highway Rally, Valve Cover Racing, Live Acoustic Music performed by the Original Morris Garage Band, Start Me Up Classic Car Show on the green, Jumpin Jack Funkhanna auto cross, Self-Guided area Tours and The 'Famous' Rally in the Valley Awards Ceremony. Check out our website for the event video, information and registration www.mn-mggroup.org Contact: Diane Rindt Phone: 715.379.6001 Email: drindt4271@yahoo.com Email: drindt4271@yahoo.com.

June 18-22, 2018

Gettysburg, PA. – MG 2018 27th Annual Convention NAMGBR
North American MGB Register Convention. This year's event is hosted by the MGs of Baltimore, Ltd. Car Club and is being held at the Gettysburg Wyndham Hotel. The event is geared towards MGBs, MGCs, MG Midgets and Mk II/III Sprites, MG 1100/1300 and Post-Abingdon MGs. There will be a class for MGAs, MG-Ts and other MGs too. This week long event will feature John Twist's Rolling Tech Session, various tech sessions, a TSD Rallye, a Funkana, Parking Lot Parties, self driving tours of the battlefield and surrounding countryside, a car show and awards banquet. For more info and registration go to WWW.MG2018.NAMGBR.ORG Contact: Richard Liddick. Phone: 410-698-7338. Email: info@MG2018.namgbr.org.

June 27-30, 2018

Delavan, WI. – GOF Central
The Central States GOF,or Gathering Of the Faithful,is a three day celebration of T-Series MGs. It will also be the annual national gathering of the MMM Register for pre-war MGs. All MGs are welcome, and even British cars of other makes. The 2018 GOF Central will be held at the Lake Lawn resort, on the shores of Lake Delavan. Events will include a First Timers show, Main event car show, Funkhana, Auction, rally, area tours and outings, valve cover racing, women's events and much more. The website for more information and registration will be operational in January or February, 2018. Contact: Ray Costa. Phone: 217-390-5300. Email: rlincoln314159@gmail.com.

July 15-20, 2018

French Lick, IN. – Austin-Healey Conclave
43rd annual Conclave for Austin-Healey owners/enthusiasts hosted by Central Indiana Austin-Healey Club and others. Run the gymkhana course on famed Salem high bank oval speedway. Rally through beautiful southern Indiana backroads. Choice of two National Historic Landmark hotels; French Lick Springs or West Baden. See website for registration form and details. Contact: Jim Bush. Phone: 317-835-7827. Email: buffie@indy.net. Website: austinhealeyconclave.

September 12-16, 2018

Dillard, GA. – Southeastern British Car Show
Southeastern British Car Festival 2018, abbreviated as 'Dillard 2018' is the Bi-annual regional show and events put on by the Peachtree MG Registry. Sept 13,14,15,16 at the Dillard House, Dillard, GA. Planning is underway – – More details to follow. Check the 'Dillard 2018' tab on the PeachtreeMG.com website. Contact: Joe Rushing. Email: pmgrwebmaster@gmail.com. Website: PeachtreeMG.com.

September 16, 2018

Lake City, PA. – All British Car Gathering
A casual event that welcomes all British cars and motorcycles and the folks who love them. Free to participants and spectators. Lake City Community Park is on a bluff overlooking Lake Erie. Contact: Richard Hall. Phone: 814-528-2894. Email: rinderlessh@roadrunner.com.