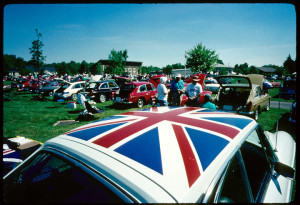 Upcoming British Car Events:
Washington D.C. Region SCCA  and
The MGs of Baltimore, Ltd.
Present the 33rd  Running of the "GET THE DUST OFF" RALLYE : Sunday, May 1st, 2022
Double Click for a Registration Flier: 2022 Dust Off Rallye
43rd Annual "MGs On the Rocks" British Car Show,  Saturday, September 24th, 2022.  Rocks State Park, 4-H Camp.  Registration flier is available here: Rocks 2022 Flier
MG 2022 – The 30th Annual Convention of the North American MGB Register – June 19th to 23rd 2022. 
During the summer of 1992, hundreds of MGs converged on scenic Peterborough, in the Kawartha Lakes region of Ontario, for the inaugural convention of the North American MGB Register.
Thirty years later, we are going back to where it all began. Come join us June 19th to 23rd to honour our history and celebrate the future. We will have a slew of actvities for enthusiasts of all ages including a car show, tech sessions, lift lock tours, funkhana, local rally, self-directed drives, a parking lot party and an awards banquet with a very special guest speaker.  We look forward to seeing you in Peterborough at THE MG event of 2022!
For more info: https://www.mg2022.org
Please remember Passports and proof of Covid-19 Vaccinations are required to enter Canada and return to the USA. 
Event Flier: MG-2022-FLYER
From Little British Car Company – https://www.lbcarco.com/
Here is a listing of events for 2022, please be sure to check with the organizers before heading off to these.
February 22, 2022

Coconut Creek, FL. – 27th Annual All British Car Show
Gold Coast British Sports Car Club 27th Annual All British Car Show. Sunday, February 20, 2022. Tradewinds Park, Coconut Creek, FL Featured Marque – Jaguar 100th Year. People's Choice Judging with Trophy and Awards Presentation, Entertainment, Food Trucks, Raffle Prizes! Pre-register at our website,

www.goldcoastbritcar.com>/>www.goldcoastbritcar.com. All British cars and motorcycles are welcome. Host hotel available. Registration begins at 8:00 am. Please be on the field by 10:00 am, show ends by 4:00 pm. Contact: David Zeitz. Phone: 954-684-6196. Email: goldcoastbscc@gmail.com. Website: www.goldcoastbritcar.com.

April 2, 2022

Columbia, SC. – Carolina British Classic XIV
This is an annual all British car event held in conjunction with The Tartan Day South Highland Games Celtic Festival. We normally have 120 plus cars attend the event. Your registration fee includes admission to the the Tartan Day South Highland Games Celtic Festival. To register Go to http://www.bccmc.com/registration-form/ Contact: Randy Yaussy. Phone: 419-834-4657. Email: bccmc.socialevents@gmail.com. Website: www.bccmc.com.

April 22-24, 2022

Howey-in-the-Hills, FL. – GOF-South 2022
Largest GOF in the south . hosted by The Orlando Classic MG Club. Attracts cars from as far away as Michigan/ Pennsylvania. Held at the beautiful Mission Inn Resort. Please try to attend and enjoy the Florida sun. Contact: Bill Dixon. Phone: 239-898-3638. Email: xytoad100@gmail.com. Website: GOF-South2022.

April 24, 2022

Lorton, VA. – Britain on the Green
The 24th Britain on the Green show will feature two hundredBritish cars and motorcycles, music, food trucks, youthactivities, and admission to historic Gunston Hall andgrounds. For 2022, we will feature Jaguar Club of NorthAmerica (JCNA) Concours d'Elegance (Concours) event and aspecial display of British Saloons (sedans) Cabriolets.Participant's Choice honors will be awarded in 25 or moreclasses of British cars and motorcycles. Contact: John Buescher. Phone: 703-522-6571. Email: bog@capitaltriumphregister.org.

May 7, 2022

Succasunna, NJ. – Britfest
Britfest is a car show featuring British sports cars, motorcycles, and other vehicles. It will be held on May 7, 2022 at Horseshoe Lake Park,72 Eyland Avenue, Succasunna, NJ 07876 from 9am to 3pm rain or shine. Preregistration is online at http://my.cheddarup.com/c/britfest. There is also registration at the gate. Both Preregistration and gate registration is $25. Spectators admission is $3 and children under 12 are admitted free. All British marques are welcome. The show very popular with British car and motorcycle enthusiasts attracts up to 250 vehicles and 600 spectators annually. Voting for "Best of Show", "People's Choice" etc. will take place from 9am to 12 noon. Dash plaques to the first 100 cars. This year we will be celebrating the 60th anniversary of the MGB. Registration forms and information will be on the website. The show is on grass not pavement. Food is available for purchase. Contact: Charles Tregidgo. Phone: 201-791-6675. Email: tregidgolaw@gmail.com. Website: www.mgccnj.org.

May 14, 2022

Raleigh, NC. – 25th Annual Triangle British Classic Car Show
This is a wonderful opportunity to see more than 125 cars representing over 80 years of British motoring history. The day will include the car show, a 50/50 drawing, and a silent auction. The gates open at 8:30 a.m. and the day is ended at 3:00 p.m. There is no charge for spectators, who can vote for their favorite car. Registration is $30 for the first car and $15 for each additional car. Early registrants receive a car show t-shirt and a chance to win a drawing for a $100 gift card. Early registration ends on April 12, 2022. The first 150 registrants receive a car show dash plaque. For more information go to https://ncmgcarclub.org/event-4182743 or contact Dennis Taylor at 919-610-7166 Contact: Dennis Taylor. Phone: 919-610-7166. Email: dltpilot@hotmail.com. Website: https://ncmgcarclub.org/event-4182743.

June 4, 2022

Clinton, NJ. – 27th Red Mill British Car Day
The 27th Red Mill British Car Day will be held on June 4, 2022 (rain date June 5) on the grounds of the beautiful Red Mill Museum Village in Clinton, NJ. The Austin Healey Sports & Touring Club-North Jersey Region welcomes all British cars and motorcycles to this show. 120 cars from four states participated in 2021. The registration fee is $20 before May 27 and pre-registration is strongly encouraged. Go to

www.austin-healey-stc.org>/>www.austin-healey-stc.org for the registration form. Contact: Steve Feld. Phone: 973-525-9054. Email: healey4459@gmail.com. Website: www.austin-healey-stc.org.

June 4, 2022

Fort Washington, PA. – Cars and Motorcycles of England/Jaguar Concours d'Elegance
All British judged car and motorcycle concours, and a nationally sanctioned Jaguar Concours d'Elegance. Sponsored by Delaware Valley Triumphs and Delaware Valley Jaguar Club. Contact: Robert DeLucia. Phone: 267-258-7071. Email: yukon80@comcast.net. Website: www.dvtr.org/cmoe.

June 3-5, 2022

Bloomington, IL. – Champagne British Car Festival
The Champagne British Car Festival (CBCF) is just around the corner in Bloomington, Illinois. This is the 31st anniversary of the Festival and you can expect an amazing weekend of British car activities. We're hosting a Saturday Cruise-in to Historic Atlanta, IL on Route 66 where the Main St. will be blocked off for our Pop-up All-British Car Show. The city will be hosting our box lunch break and opening up their Route 66 and Pinball museums. The drive will also include stops at private automobile and vintage toy collections. Compete for Poker Chip Run prizes The weekend culminates on Sunday June 5th with the Champagne British Car Show on beautiful Clover Lawn of David Davis Mansion. The Mansion provides a wonderful backdrop to display over 125 British cars. The festival includes drives, music, vendors, food and beverage options. Triumph cars are the featured marque at this year's car show . Contact: Brian J Davis. Phone: 309-662-4070. Email: bjdavis@PaddysGarage.com. Website: https://iflbcc.club/2022-whats-happening/.

June 5, 2022

Waterford , CT. – British by the Sea
The 34thannual CT MG Club's British By The Sea Gathering is back for 2022 ! It will be held on our usual date of the first Sunday in June, which will be June 5TH, at Harkness Memorial State Park in Waterford CT. BBTS is a popular vote, fun event, with etched glass mugs being presented as awards. For 2022, we will have 32+ Classes, displayed on our 4 acre field. For this year, we have divided the Jaguar Marque into 4 separate Classes, one of which will be our Featured Marque Of The Year, the JAGUAR E-TYPE. The expansive lawn areas offer ample room for the display vehicles, vendors, spectator parking and a spacious area for trailer parking. www.CTMGCLUB.COM and Click on the BRITISH BY THE SEA tab for more information, pictures of past events, aerial Drone video, and registration form. Contact: Steve Wincze. Phone: 860-693-4249. Email: MGTD52@comcast.ne. Website: www.ctmgclub.com.

June 26, 2022

Notre Dame, IN. – Michiana Brits 34th Annual Car Show
June 26, 2022 – Saint Mary's College, Notre Dame, IN – Michiana Brits Annual British Car Show – contact Jim Betz (574) 298-5735 – This highly popular all-marque show is on the beautiful campus of Saint Mary's College on the north side of South Bend, IN, near the University of Notre Dame. The Featured Marque is the MGB Chrome Bumper Roadster. Judging will be by popular vote, with awards given for each class and Best in Show. The entry fee is $25 per vehicle. Judging from 11 AM – 2 PM, awards shortly thereafter. Collector show pins for the first 100 vehicles. Food sales (credit cards accepted) by Saint Mary's College, air-conditioned indoors area & restrooms. Bring a can of food for our 'Help Michiana Brits Drive-Out Hunger' donation to the Food Bank of Northern Indiana. Entrants may register at the show or pre-register at www.michianabrits.com. Contact: Jim Betz. Phone: 574-298-5735. Email: jbetz@riverbendhose.com. Website: www.michianabrits.com/annual_show.htm.

June 22 – July 5, 2022

LBCarCo Adventure 2022 (XIX) – 

NEW DATE 2022

 – Cruise the Danube on Viking Longship – (Say Hi to Jan and Jeff. Non-vending event, just for fun)
New Date! In April of 2018 we did a Rhine River cruise on Viking with a group of 46 people. We were really impressed with the level of service and organization (not to mention the food and the ship itself) that Viking provides. It was a wonderful time with a group of friendly people who have similar interests.For 2022 we have scheduled a Viking River cruise on the Danube River. This trip really has nothing to do with classic cars, it would be a wonderful trip through a beautiful part of Europe with a great group of people. We were totally impressed with the pre cruise stay we enjoyed in Lucerne on the 2018 trip, so we will do the same in Budapest and Prague, two of central Europe's most admired cities. Optional independent early arrival or departure can be arranged.

We would depart on June 22 for a three night pre-cruise stay in Prague, sail on the Viking Long-ship Alta from June 27 to July 3 and then spend 2 nights in Budapest, returning on July 5. The cruise starts in Nuremberg, Germany with stops in Germany and Austria and ends in Budapest. Guided excursions at all ports are included along with onboard activities. Viking has great airfare prices, which include airport/hotel transfers.

So far we have a group of around 36 people. Space on a riverboat is somewhat limited vs a big cruise ship so if you are interested please do not delay. To join in the fun for 2022 or if you have other questions contact Jan Zorn via email to jan@LBCarCo.com Email: jan@LBCarCo.com. Please include the subject line of Adventure 2022 River Cruise and include your name, email address, phone and how many would be joining us. She will provide further details.

June 27-July 1, 2022

Buellton, CA. – GoF West 2022
This is the 50th year for GoF West. Expect to participate in the normal events such as the Car Display, Rallye, Funkhana, Tech Sessions and Auction plus several events that will bring together old friends and making of new friends. Contact: Mike Campbell. Phone: 619-993-0952. Email: MGMIKEC@YAHOO.COM. Website: GoFWest.org.

August 6, 2022

Dayton, OH. – 37th British Car Day Dayton
37th Annual Dayton British Car DayHonoring the 60th anniversary of the MGB & Triumph Spitfire Saturday, August 6, 2022 9 am 4 pmEastwood MetroPark, 1385 Harshman Rd. Dayton, Oh.Presented by MG Car Club Southwestern Ohio Centre & the Miami Valley Triumphs Participant's choice car show featuring 28 classes, vendors & swap meet, full service concession stand, dash plaques to first 200 entrants, and as always, spectators are admitted for free. Cars are displayed on the tree-lined field at Eastwood Metropark. Registration: $20 in advance includes free BCD t-shirt if received before July 23, 2022; $20 day of show, Vendors $25, T-shirts $15 Registration open 9 am until Noon. Show runs rain or shine!Special Awards: Longest Drive, Ranger's Choice & Best of Show presented by the British Transportation Museum For more information:General Info & Show: Skip Peterson, 937-603-7601 or DaytonBCD@gmail.comRegistration: Stan Seto, 513-683-7974 or DaytonBCD@gmail.comVisit our website and register online! www.britishcardaydayton.com Contact: Skip Peterson. Phone: 937-603-7601. Email: DaytonBCD@gmail.com. Website: britishcardaydayton.com.

September 18, 2022

Lake City, PA. – All British Car Gathering
British Car Show. All British marques welcome, Lake Erie Community Park, 10924 West Lake Road, Lake City, PA 16423. Lovely setting overlooking Lake Erie, Shelter and restrooms. Food Available. 50/50. 12:00 PM to 4:00 PM Registration begins 10:00 AM. Admission to public for viewing is free. Contact: Rich Hall. Phone: 814-528-2894. Email: rinderlessh@roadrunner.com.

September 7-22, 2022

LBCarCo Encore 2022 ADVENTURE 

NEW DATE 2022

 TO Beaulieu Autojumble and Goodwood Revival – (Say Hi to Jan and Jeff. Non-vending event, just for fun)
Encore Adventure 2022 will be a repeat of two prior trips to visit two huge motoring events in England – the Beaulieu autojumble and the Goodwood Revival. Both events are in southern England and will be combined with some sightseeing and touring in that area, followed by a stay in the Cotswolds, where the adventures began back in 2002. Dates will be a deparure on Sepember 7 with return on September 22. Included will be admission to both events, hotel accomodation, all breakfasts, and private coach transportation. A variety of other activities representing the best of Britain will also be included but there will also be free time to enjoy as you wish. Please drop us a note if you are interested. Send an email to Jan Zorn at jan@LBCarCo.com Email: jan@LBCarCo.com. Please include the subject line of Adventure 2022 Beaulieu/Goodwood and include your name, email address, phone and how many would be joining us. She will provide details on all of the plans.

September 24, 2022

Street, MD. – 43rd Annual "MGs On the Rocks" British Car Show & Parts Market
MGs on the Rocks If you love British cars this is the place to be the last Saturday in September. The Rocks State Park 4H Camp is an excellent country setting in rural Harford County, MD. Bring a picnic basket or purchase your lunch at the show and join the MGs of Baltimore for what has always been a superb show. Bring your parts shopping list for your ongoing renovation projects or your Christmas wish list for shirts and books. See you at the Rocks Contact: R. Liddick. Phone: 410-817-6862. Email: RGL2MGBGT@aol.com. Website: https://mgsofbaltimore.org.

September 22-25, 2022

Lexington , KY. – 6-Pack TRials
I am a member of the TR6 and TR250 car club called 6-Pack. I'm also a member of the Tristate Triumphs in Cincinnati OH. We are hosting the annual 6-Pack car club event called "TRials" in Lexington KY from September 22-25 this year. I'm in charge of soliciting donations and goodie bag items for the event. Would LBCarCo be able to help out with a monetary donation or a door prize to be raffled off at the event? Please let me know. Your company name will be prominently listed in the registrant's information package and at the banquet dinner. Of course, we are also looking for items for the "goodie bags" such as pens, magnets, LBCarCo sales literature, etc. We expect to have at least 75 cars this year. We are currently working on a website for the event but it's not yet ready to go. But please see:https://forums.6-pack.org/the-6-pack-forums/6-pack-club/trials/546367-trials-2022-lexington-ky-9-22-25 Thank you! Steve Broermansapphiretr@cinci.rr.com513 310-1616 Contact: STEVEN E BROERMAN. Phone: 513-310-1616. Email: sapphiretr@cinci.rr.com. Website: 6-Pack.org.
Due to the Covid-19 Virus please check with the event organizers to make sure the event has not been cancelled or rescheduled. We will endeavor to update our events page for events that we know have been cancelled or rescheduled.
Little British Car Co, Ltd. Vintage Motors, Ltd.
29311 Aranel, Farmington Hills, MI 48334-2815, USA
Contact: Jeff Zorn Tel: 248 489 0022 or 800 637 9640 Fax: 248 419 2461
E-Mail is always the preferred method of communication.
By using E-Mail it helps us to keep our costs down enabling us to pass the savings on to our customers.
Email: <LBCarCo@LBCarCo.com>