About Us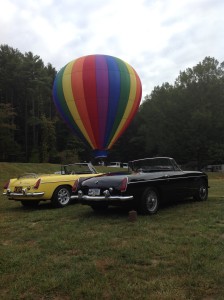 The MGs of Baltimore, Ltd. Car club was established in 1977. The club represents over 150 members in the Metro Baltimore area.  As the name implies, the club centers its activities around the preservation and enjoyment of the cars that bear the classic MG marque. The club is affiliated with the following national organizations: The North American MGA Register, The North American MGB Register, and The American MGB association. Internationally, the club is affiliated with the MG Car Club and The MG Owners Club.
The clubs activities include sponsorship of the nationally known "MGs on the Rocks" car show, a series of challenging (and FUN) historic car rallies, as well as numerous fun gatherings all through the year.
The club membership meets at 7:30 PM the first Tuesday of every month at Pappas'Restaurant, located at 1725 Taylor Avenue, Baltimore, Maryland . The restaurant is located off the 695 Beltway and Perring Parkway. Come early (around 6:00 p.m.) and have dinner.   www.pappascrabcakes.com/restaurant .
The meetings are about sharing experiences, taking care of club business and normally include a monthly tech session provided by our MG "technical guru" Randy Kegg.
More than just MGs
Many members of MGOB are owners of the other classic British marques and all are welcomed to join the club.
The Octogram,  the club's newsletter is published monthly by the MG's of Baltimore Car Club.